To express appreciation and accompany Customers, the Isuzu Dealer system nationwide implements the program "Interest rate and registration fee support" which applies for N-Series and F-Series trucks with the following detail.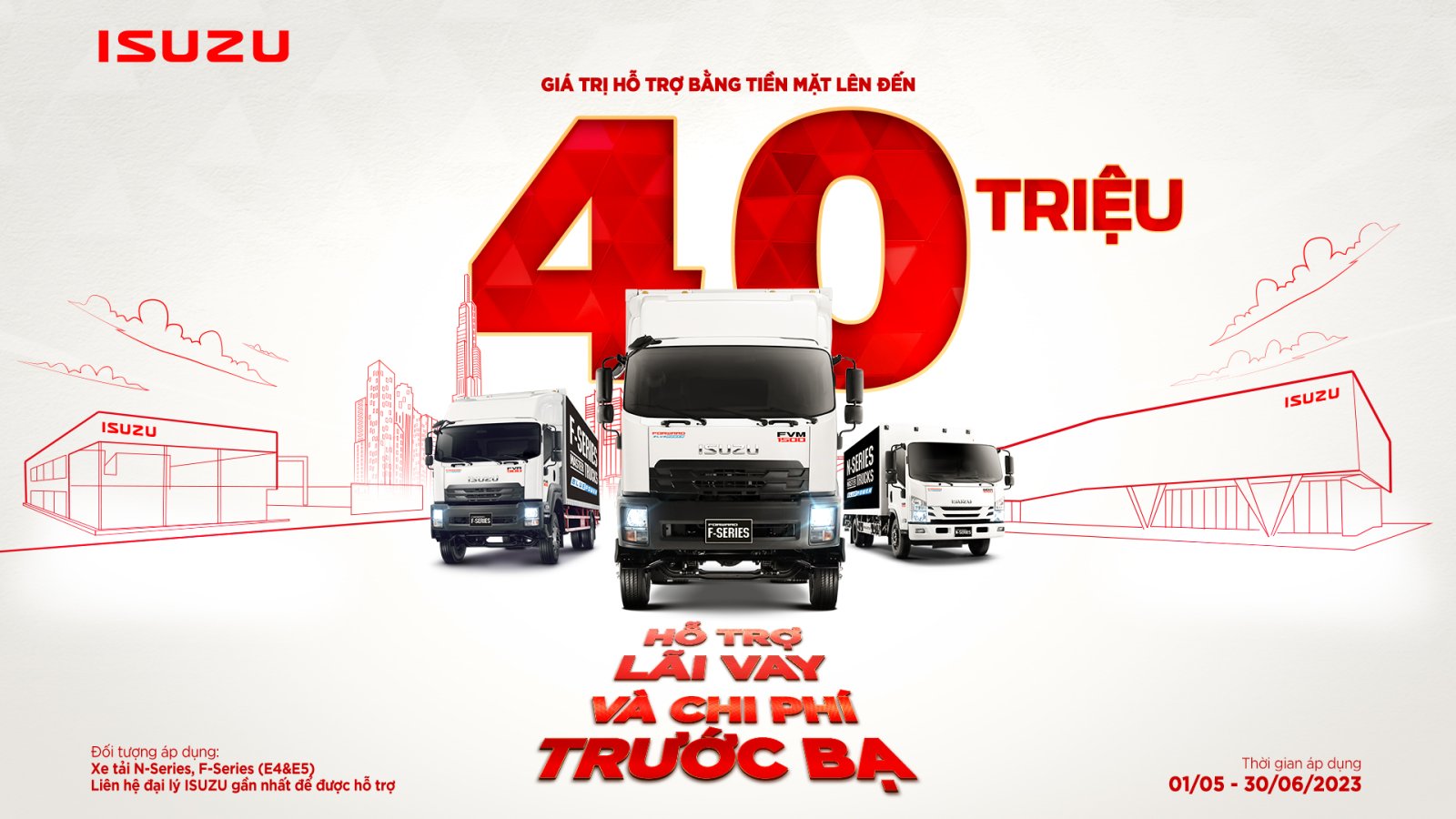 INTEREST RATE AND REGISTRATION FEE SUPPORT
In 2022, with the trust and companionship of customers, Isuzu Vietnam has established a new record in terms of production and retail sales. In order to show gratitude and support to customers, Isuzu Vietnam implements the following promotions applied at Isuzu dealers nationwide:
Program: "Interest rate and registration fee support" – with the total support by cash up to 40 mil VND
Applicable time: From May 1st, 2023 to June 30th, 2023

Applicable objective: Isuzu N-Series and F-Series trucks E4 & E5

Content of program: Customers buying the truck during the promotion period will be supported with the bank interest rate & registration fee with the total cash amount to correspond to the following models:
PRODUCT LINE UP

MODEL

PROMOTION VALUE

(VND/UNIT)

N-SERIES (Euro 4 & Euro 5)

All models

20,000,000

F-SERIES (Euro 4 & Euro 5)

FRR & FVR

30,000,000

F-SERIES (Euro 4 & Euro 5)

FVM & FVZ

40,000,000
*The value promotion is not included VAT
Contact the nearest Isuzu dealer for further information and support.
The Dealer system: https://isuzu-vietnam.com/dai-ly-xe/
PROFESSIONAL TRANSPORTATION SOLUTION FROM ISUZU
N-Series: With the GVM from 4.99T – 9.5T, Isuzu N-Series offers diverse choices for customers in each segment. Isuzu N-Series owns a simple but modern and highly applicable design language with a spacious cabin, and wide viewing angle. The products are equipped with powerful Euro4 and Euro5 emission standard engines, which are fuel efficient and environmentally friendly.
F-Series – Perfect solution: As a Japanese standard medium & heavy truck, with high durability, easy operation, and maintenance frequency is equivalent to light trucks, helping optimize the operating fee. The ISUZU F-Series Trucks have the GVM of 11-25 tons, offering a wide range of choices, efficiency, and flexibility; meet all the needs of customers, especially long-distance transportation.
ISUZU VIETNAM